Follow our Vintage 1986 VW Kombi bus where we pack big bites into small plates providing you with flavors made for a royal palate. Our business is a LGBTQ, Bipoc & Women owned and operated mobile kitchen serving small savory bites and shaking-up Photo worthy Mocktails.
World-wide, you can find any culture with their own verison of Spanish Tapas. At Royal-T Tapas, thats exactly where we found our inspiration. We serve international tapas-style dishes packed with bold combinations of both flavor and originality. Our menus often rotate, and include both fan favorites and seasonal items, paired with zero-proof mocktails.
December Calendar coming soon!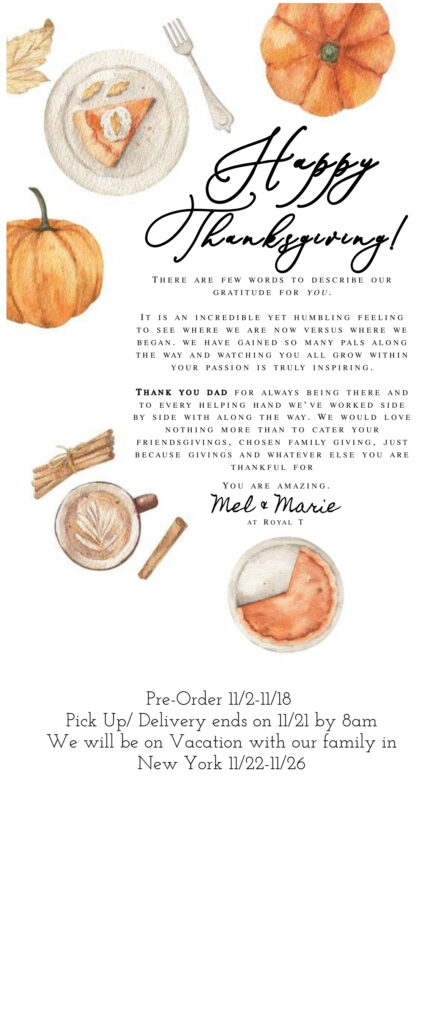 Tapa Trials 2024
Every February  we celebrate our birthday and we would love for you to Join us when we Turn 2! Be sure stay up to date for details about our 3rd Annual Tapa Trials. Until then #ROLLWITHROYALT ! @ Orlando Parkinglot Party
Our menu rotates per event to keep you on your toes – Check out the items we are featuring each week on our instagram: @Royalttapas 
Follow us on Instagram @Royalttapas
"THERE IS SO MUCH CREATIVITY FROM THE DISHES THEMSELVES TO THE NAMES, HEARING MY MOM SAY "KISS MY HASS" WAS A HIGHLIGHT OF MY EVENING
I absolutely love Royal-T Tapas ! Marie & Mel are the sweetest girls & more than accommodating! My favorites are their EZ BEING CHEESY, JOSE SUCIO, BROTHEL SPROUTS & their CARNÉ ARTIST! ALL SOOOO FIRE! They even have vegan & vegetarian options! And you can't forget to try one of their non-alcoholic cocktails that they make either! The cutest little food truck with amazing food & impeccable service! I can't wait to try any new creations they come up with!
Royal-T Tapas is hands down one of the best food trucks in central Florida. Service is always perfect and food is always on point. Always looking forward to events and what innovative new drink or food item they are featuring. Can't recommend them enough!